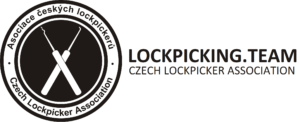 Since 2010
We are an independent organization that connects people interested in nondestructive opening of locks as a hobby or sport.
Our association was founded in 2010 as a first of its kind in the Czech Republic and as third in Europe after German SSDeV and TOOOL from the Netherlands. Our member base is very diverse, there are both men and women, coming from various parts of the Czech Republic. Most of our members are professionals: locksmiths, safe technicians and other security experts but we also have people from various other backgrounds ranging from art to science.
We complement each other and form a strong team. One person's weakness may is other persons strong suit and as a whole, we can often tackle problems that are beyond the reach of individual experts. We are connected by our interest in locks, we are interested in intricate details of their mechanisms. Locks for us are like puzzles solving. We like learning new things and constantly getting better at what we do. Our association is are engaged in various projects and activities. We organize locksport championships for lockpickers from all over the world and various events for the general public and also conference talks and lectures about locks and security.
We are a non-profit organization. Our organization is mostly financed by member fees and donations of our members and other supporters. If you like what we do, please consider donating locks, tools or money to our association. Every little bit helps us to organize better events, award better prices for winners of the competitions and do more meaningful research. If you would like to support our association, you can become our patron on patreon here. We do not accept international members right now.
We want to use our expertise to help others. Recently, we have started offering professional services to general public, companies and organizations. We can organize workshops and classes about security of locks and locking systems and evaluation of level of security.
Ethical questions about lockpicking
We are aware that there are certain risks associated with lockpicking. We are working hard to prevent possible misuse and make sure our actions are helping to increase security and not the other way around. So, first and foremost, in public events, we are educating people about possible risks and not teaching people how to pick locks.

We do not agree with an approach followed by some locksporters who disclose weaknesses of locks without regard of the people using them. It is true that criminals use destructive means to overcome locks, but there certainly are cases where nondestructive methods can pose a risk.

This is especially the case if the method in question is very simple to perform (as may be the case in some specific techniques that bypass the locking mechanism) and in case of high-security locks. For high-security locks, the manufacturers managed to protect their locks against many destructive methods and picking the lock may be the easiest and fastest method.

Locksport has made security better.  We organize lectures at universities (Czech Technical University in Prague, University of Technology in Brno), various international conventions (ELF 2017 in Prague or Lockfest in Karlovy Vary) and other events, where we promote good physical security. We try to collaborate with lock manufacturers as much as possible to make locks safer for everyone.
We honor the moral code of our association. We follow the 3 basic rules of locksport:
We only open our own locks or locks for which we have explicit permission from the owner.

Lockpickers that are not professional locksmiths may never pick locks that are in use.

We do not disclose information that can be used for illegal activities.